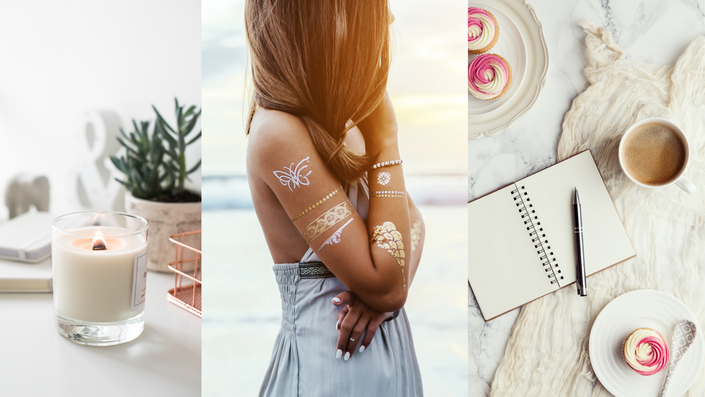 The Ultimate Cycle Sync Bundle
Everything you need to glow up with cycle syncing
Cycle Syncing | Energy | Mood
Learn how to sync your food, fitness, work & self care to your monthly cycle for sky-high energy and your happiest mood ever!
Some of the UNBELIEVABLE benefits of cycle syncing include:
INCREASED SELF AWARENESS
You love learning about yourself, but without knowing your cycle phases, you'll keep thinking your irritable mood or low energy "just happen" and you're having a bad day. Knowing your monthly cycle puts you back into the driver seat so your life clicks.
ENERGY. FOR. DAYS.
Relying on caffeine and living burnt out by society's hustle culture is out. Women learning how to tap into their predictable body patterns is in. You'll love learning how to tailor your habits to maximize your energy - naturally.
YOUR HAPPIEST MOOD
This bundle looks at cycle syncing a bit differently than you may have seen before. Using the power of your mindset and natural mood shifts, you'll know when to go all in to achieve your goals and when to scale back to reflect - leaving you calmer and happier than you've ever felt before.
Complete your Glow Up with the Ultimate Cycle Sync Bundle, which includes:
Monthly Cycle Video Trainings. Learn what cycle syncing is and the 4 phases of your cycle that run your mood, energy, and mental focus. You'll finally understand the predictable patterns you need to pay attention to.
Hormones 101 Booklet. When used to your advantage, your hormonal health is an extremely powerful tool in getting what you want. This booklet breaks down what you need to know.
Cycle Sync Cheat Sheets & Journal Prompts. Keep your cycle on top of mind with four cheat sheets to hang up on your fridge or office. Then dive deep into your mindset and discover the predictable thought patterns you work through each week.
Grab your Ultimate Cycle Sync Bundle today and I'll also throw in these 3 exciting bonuses!
1. 8 INSTAGRAMMABLE CYCLE PHASE TEMPLATES Beautifully designed and curated so your cycle stays top of mind. With two templates per cycle phase, you can easily post these to your Instagram stories or use as a screen saver on your phone. You'll never miss a beat or waste time wondering what phase you're in.
2. DONE-FOR-YOU GROCERY LISTS Knowing what to eat each week can be tough and I want to make it as simple as possible. I'm throwing in four grocery lists - one per cycle phase - so you know exactly how to simplify your meal planning.
3. THE ULTIMATE CYCLE TRACKER Forget period apps you never use and forget to open. With this ultimate cycle tracker, you'll be able to track what you're eating, any symptoms like bloating or acne you're experiencing, and jot down your daily mantra and top priority list of the day. They're completely tailored to your cycle so you glow up even faster.